Maximum mobility: Compact Systainer format and minimum weight, making it easy to store and easy to carry
Independent: High-performance suction without a power cord with 2 x 18V (4.0 Ah) battery packs (sold separately)
Cleaner work environment with HEPA filtration
No interruptions: Work continuously with four battery packs and a TCL 6 DUO rapid charger for most cordless applications
Practical: The extractor switches on via the remote control or with a Bluetooth® battery pack
Compatible: Can be connected with Systainers or the SYS-Cart, SYS-Roll, and MW 1000
Powerful: Thanks to the 36 V turbine, power comparable to a corded extractor
Adjustable: Three suction levels for adjustable suction power
Convenient: Thanks to the shoulder strap, easy to carry and adjustable for size, thanks to the removable hose garage

Only compatible with the 4.0Ah and 3.2Ah Batteries. Does NOT take the 5.2Ah or 6.2Ah 18 V batteries!*
Cordless freedom with maximum portability. Systainer on the outside, cordless dust extractor on the inside. Our Systainer extractor offers maximum performance and independence with minimal weight - perfect for transporting and carrying. This makes it the ideal partner for smaller tasks and punch list work. It enables virtually dust-free work without the need for a power outlet and excels with maximum suction power thanks to the 36 V turbine with 2 x 18V battery packs (sold separately). Work hassle-free thanks to the robust design and premium quality components: The extractor, smooth suction hose, remote, and T-LOC Systainer connection. The innovative Bluetooth® autostart and the practical remote control ensures the perfect combination of a cordless tool and the dust extractor. This provides maximum efficiency and performance for a great result.
Includes:
(1) Main filter
(1) Fitted filter bag
(1) Smooth suction hose dia. 27mm x 3 m AS/CT with rotating angle adapter
(1) Hose holder
(1) SYS-Dock with T-LOC function
(1) Upholstery Brush
(1) Crevice Nozzle, D36
(1) Shoulder Strap SYS-TG
(1) CT-F I Bluetooth extractor remote control
BATTERIES AND CHARGER SOLD SEPARATELY - Requires two (2) 4.0Ah 18V batteries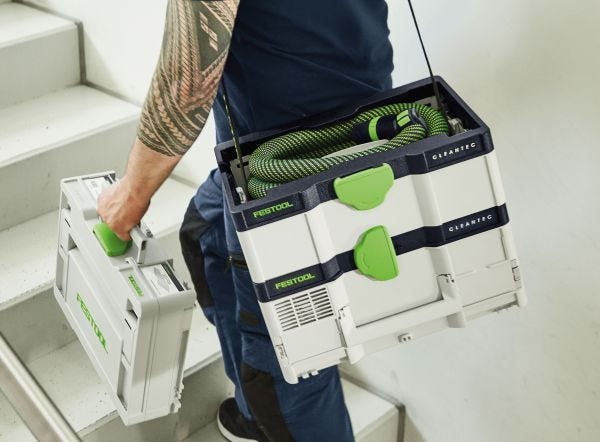 Easy to transport in fewer trips

Its low weight, Systainer format
and shoulder strap make the
extractor easy to carry. This
leaves your hands free for any
other materials or tools you
might need.
Powerful

Comparable power to a corded
extractor thanks to the 36 V
turbine with 2 x 18 V battery
packs (4.0 Ah).
Just the size it should be

The removable hose garage
makes the CTC SYS even smaller
Integrated Bluetooth®

Ideal combination with Festool
cordless tools. Convenient and
fast: The extractor switches on
automatically via the Bluetooth®
battery pack.
Practical remote control

Switching on the extractor via
the remote control directly on the
suction hose saves you a trip to
the extractor. Ideal for occasional
cleaning tasks.
Suction power regulation

Adjustable suction power in three
levels. The appropriate level can
be selected depending on the
application, which increases the
battery runtime.
Practical in Systainer³ format
Comes with integrated HEPA
filter that removes 99.97% of
particulates down to 0.3 microns.
All in one place
The upholstery nozzle and
crevice nozzle have been
integrated into the cordless
Systainer dust extractor, and
are always within easy reach
and can be securely stowed.
More Information
Specifications

Max. volume flow: 85 CFM (2400.00 l/min)
Weight: 19.40 lbs (8.80 kg)
Dimensions: (L x W x H) 15-1/2" (396 mm)  x 11-5/8" (297.00 mm)  x 12" (307.00 mm)
Container/filter bag capacity: 1.2 gals (4.50 dm³) /0.9 gal (3.50 dm³)
Max. vacuum: 72" static water (18000 Pa)
Battery voltage: 36V (two 18V batteries)
Battery capacity: 4.0Ah; 2 x 4.0Ah runtime 14 - 25 min

Product Type
Vacuum